Welcome to ...

ADLS-on-the-Web!


The Adaptive Device Locator System
A full-spectrum assistive technology database

Penny D. Ellis
Marketing

Warren E. Lacefield
Administration

AdaptWorld.com, Inc.
3504 Tates Creek Road
Lexington, KY 40517
859-233-2332
---
INFORMATION RELEASE - 3/1/2002
AdaptWorld.com, Inc., (AW) a premier assistive technology (AT) buyer's guide and product information resource on the Internet, and Academic Software, Inc., (ASI) an educational R&D and assistive technology firm in Lexington, Kentucky, are pleased to announce the availability of the Adaptive Device Locator System on the Web, a major enterprise supported by NIDRR and the US Department of Education under Phase II of the Small Business Innovative Research (SBIR) Program. Visit the new web site at http://www.adaptworld.com and search all seven ADLS databases (Existence, Communication, In-Situ Motion, Travel, Environmental Adaptation, Rehabilitation and Sports and Recreation) for the information you need about products designed to make life better.
The Adaptive Device Locator System, abbreviated ADLS, is a set of databases that help users obtain information about specialized equipment and devices that can compensate for barriers imposed by limited physical capabilities. Elderly persons, people with disabilities, educators, and helping professionals can use the Locator to identify assistive and adaptive devices that can increase independence, facilitate education, and improve quality of life.
ADLS-on-the-Web guides users through a simple search process that results in lists of devices designed to meet specific functional needs. It provides short device descriptions, pictures of equipment, and lists of sources for products and product information. In addition, ADLS-on-the-Web provides links to vendor sites and will generate email or printed letters automatically to companies requesting catalogs and specific product information about an identified device.
Overview of ADLS
The ability to meet environmental demands has a significant impact on a person's degree of independence, quality of life, and ability to learn. Many elderly people and children and adults with disabilities frequently encounter difficulties meeting demands placed on them by their environments. Assistive and adaptive technologies can benefit many of these individuals and help them improve their level of functioning.
ADLS-on-the-Web is remarkably easy to use. But its most important feature is that ADLS responds directly to the functional needs of people. First you identify the goal or objective to be performed by an individual. Then you are presented with a series of options that more sharply define that goal and require decisions about the individual's characteristics and abilities. These decisions eventually lead to a related cluster of devices, aids, and/or accessories designed to help the person accomplish specific activities. You do not need to know the names of devices or vendors to use this system. The unique organization of the ADLS databases follow principles of human development and are the result of nearly 25 years of prior research and development activities. This makes your search process a very personal and individualized one, directed by a conception of the goal or function to be performed and the capabilities of the person considering the use of assistive technology.
ADLS Database Content Areas
The Adaptive Device Locator System assists people with disabilities and those who work with them to locate assistive and adaptive devices to meet functional needs. ADLS covers technologies, equipment, and accessories that can improve independence and enhance functioning in seven different areas: existence, communication, in-situ motion, travel, environmental adaptation, rehabilitation, and sports and recreation. (ALL SEARCHABLE NOW!)
Items in the EXISTENCE category provide assistance in basic functions needed to sustain life. Included in this category are devices that help with feeding, elimination, bathing, dressing, grooming, and sleeping.
COMMUNICATION devices facilitate the reception, internalization, and expression of information. Among the equipment in this category are hearing amplifiers, magnifiers, telephone dialers, learning aids, writing and drawing aids, pointers, dedicated speech aids, alternative input and output devices for computers, switches, and many other kinds of electronic and non-electronic equipment.
Items in the IN-SITU MOTION category provide stabilization, body support, or protection to a portion of the body that requires it. This category includes special positioning devices and furniture, support harnesses, stabilizers, slings, and body protectors.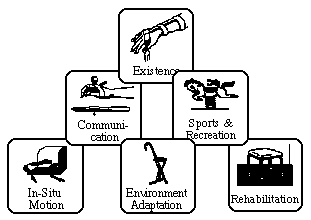 Equipment under TRAVEL can help a person to move about horizontally or vertically. A wide array of items is covered, including hoists, wheelchairs, scooters, cycles, ambulators, walkers, crutches, and canes.
ENVIRONMENTAL ADAPTATION covers devices and accessories designed to assist a person perform many of the activities involved in transition from school to work and daily living, both indoors and outdoors. Driving aids are included in this category, as well as special fixtures, kitchen utensils, and appliances.
The proper use of tools and equipment included in the REHABILITATION database is normally determined and supervised by a physical or occupational therapist in consultation with medical staff to improve and increase a person's physical function or range of motion. The Locator describes devices used for testing, exercising, training, and therapy.
The SPORTS AND RECREATION database covers a wide variety of assistive and adaptive devices and aids designed to promote participation in individual and/or group sports, play, or hobby and craft activities.
The seven ADLS databases include generic descriptions for over 1000 types of devices, categorized under 400 different classifications. In fact, the generic descriptions cover many more thousands of actual devices that are produced by well over 800 vendors presently cross-referenced by the system. General graphic illustrations of devices are included to help you more easily understand how particular devices can be utilized.
An Example Search Strategy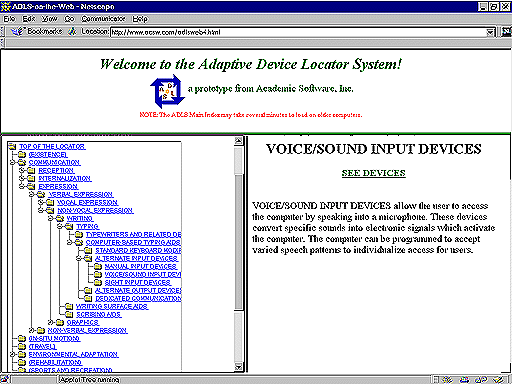 To use ADLS, a person defines a problem in terms of a function or goal to be accomplished. For example:

Ann is a junior in high school. She is an honor student planning to major in computer science and minor in art in college. On her way home from the junior prom, she was in a serious automobile accident, which left her paralyzed from the neck down. Although she has very little motor control over her extremities, she can still talk. Her parents, working in conjunction with the guidance counselor and team of support professionals in her high school, are interested in locating a device that can enable her to continue working with her computer.
ADLS presents a hierarchical list of category options that are related to (1) the goal for this search and to (2) functions that Ann is able to perform. Each category is accompanied by a decision aid to help the user make the most appropriate choice. When one category is selected, a new set of more specific subcategories is presented. In our example, Ann needs a device to help with communication. She needs something to help her express herself verbally but non-vocally, e.g., in writing and typing. She needs an alternate means of operating her computer, for instance, by voice input.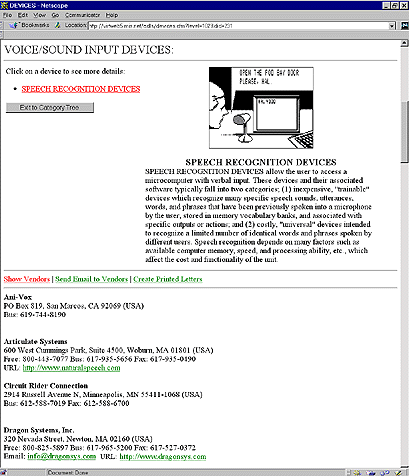 After progressing through a series of decisions based on options presented on the screen, ADLS eventually will lead you to information about one or more types of devices that possibly could be used to solve Ann's problem. In this case, the Locator would find a generic category of devices called "speech recognition devices." A small picture of such a device will appear on the screen, accompanied by a narrative description of the device and how it can be used. A list of manufacturers and/or distributors of the device is available and you can instruct the program to send email and/or print business letters to these vendors requesting catalogs and product information about this specific type of equipment.
If you are a school library, assistive technology center, or helping professional, you may wish to contact AdaptWorld.com to order mailings requesting catalogs from all vendors in the database. ADLS-on-the-Web then becomes an electronic index to an entire file cabinet of up-to-date resource references.
This material is based upon work supported by the US Department of Education under Contract Number RW97076009. Any opinions, findings, conclusions or recommendations expressed in this publication are those of the authors and do not necessarily reflect the views or policies of the Department of Education.
---

Return to the top of this page

Return to the ADLS Index

Return to AdaptWorld.com
---
Copyright © 2002 Academic Software, Inc.
All Rights Reserved